CrackpotsCAO (non profit making) Community Arts Organisation.
The Blue Moon Festival
The Blue Moon Festival was a small and friendly affair situated near Newcastle Emlyn in west Wales. CrackpotsCAO were invited to attend by members of the Green Road Show who had performed at the Ely Festival in Cardiff, earlier in the year. Having driven there from Cardiff with Tony in an old Bedford ambulance owned by some hippies without driving licence. It was now painted Green had no brakes it turned out and sauntered along to the tinkling sound of Tibetan bells. Dealing with
children's clay workshops -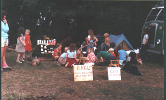 and firing the pots over the weekend was child's play by comparison.
The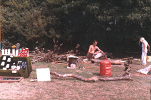 market stall in the photo shows the Green Door Pottery display which we set-up to sell our own domestic pottery and ceramic art wares. The gas cylinder provides fuel for the raku kiln made from an oil drum which is lined with ceramic fibre blanket. Sundry
Raku fired items made by the children and fired in a gas kiln. -
Raku fired ceramic wares. -

were produced.
Just for fun, we also did a demonstration

Saw Dust pit firing -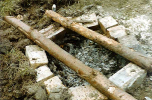 Saw Dust Pit Firing. along with things being fired in the camp fire.
Copyright - CrackpotsCAO © Alfazed © Oxford PC Solutions Ltd © 2019
page last updated 29.10.2019