CND Peace Festival - Liverpool
August 1985, during our show at Glastonbury CND Festival this year, we were invited to do something similar at a CND festival in Liverpool. Six crew stayed in Liverpool and ran tile painting workshops and raku firing demonstrations for the 3 days of the festival. We took a design for a Peace Mural got people making the tiles for it. The tiles were then bisque fired and later decorated with glaze ready to be raku fired on site. The clay and gas were surplus after Glastonbury, Cardiff University Students Union loaned us a van for the huge sum of £10, so our expenses were quite low. Besides food, our only major cost was £30 for petrol which we recovered as expenses from CND.
Unfortunately the weekend was a disaster as far as CND was concerned. The festival could not have been planned for a worse weekend as there was another FREE Festival taking place on the same weekend, about 1 mile away at the other end of Sefton Park. Over the 3 days, only a handful of punters came by as the whole of Liverpool's party people were enjoying a raft of top bands, like Echo & the Bunnymen, absolutely FREE, at the other end of the park ! We did get several visits from some local skallies who were just on the look out for stuff they could nick !, and were not interested one bit in joining in with what we were doing. So, besides the tiles and tools which disappeared we also had to suffer the torrents of derision from these lads when they appeared. We could only wish that they would leave - as they rode through the marquees on their bicycles relieving them selves of their boredom with taunts and laughter.
The tiles for the Peace Mural, which had gone missing were eventually remade and delivered to "The Blackie" at great personal expense for Ellen and me. Visiting "The Blackie" was a great experience and worth all the shit we'd had to endure as we met a great bunch of people doing a great job, who arranged that the mural was erected in the Children's Hospital. The place and the people we met were very inspiring and provided a shining example of what can be achieved when there is a strong enough need, the desire and some cash from benefactors. My only regret being that we didn't have enough money for a film so we'd have had more photos than this one. Part of the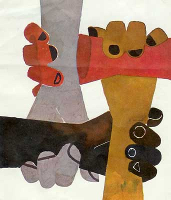 finished mural
.
Copyright - CrackpotsCAO © Alfazed © Oxford PC Solutions Ltd © 2019
page last updated 29.10.2019