Bohmarie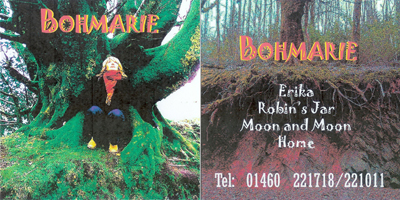 This CD is being sold by Oxford PC Solutions on behalf of the artists. A donation from the sale goes to Oxford PC Solutions, to further their community projects like SOMA Housing Co-Op.
£ 10 inc.Postage
Marie Anderson & Bob Collett's collaboration in Bohmarie is remarkable. Their music has a purity that few artists ever achieve but many aspire to. The beautiful combination of Marie's natural voice and Bob's sympathetic accompaniment finds space for their music to weave it's way into the consciousness of the listener. It is music that you feel rather than hear.
"This year (2011) they have matured into an act that could hold it's own with the very best on our Sidmouth Folk Week stage, and due to this they received this years Acoustic Cafè Best Newcomer Award."
To contact Bohmarie, please telephone 01460 221718/221011, or eMail Bob Collett using this link.
The copyright owner must be consulted if you wish to use or reproduce the material for commercial purposes. In all cases higher quality products are available. To obtain these or to add or change the content of the web site or for anything else - send an eMail to the web host
Copyright - CrackpotsCAO © Alfazed © Oxford PC Solutions Ltd © 2019
page last updated 18.11.2019